Plasson's Climate Equipment Package:
Each of the products that we offer has been carefully chosen, inspected and tested before being added to Plasson's offering.
Plasson's Climate Equipment Package includes a variety of products to suit different growing regimes and various climates. Choosing the equipment is only the first stage in designing a successful package of equipment.
Plasson's highly professional teams around the globe will be capable of designing and grouping Climate Equipment that will be cost effective on the long term, both in the investment and also highly efficient and productive in operation, thus reducing the Total Cost of Ownership (TCO).
Choosing Plasson's Climate Equipment will lead you to reach excellent professional and economic results in terms of FCR, mortality, and yield.
For over 50 years we have been working with the poultry industry. Our well known and proven policy to continue our contact with our customers by means of after sales services will definitely make the difference for you.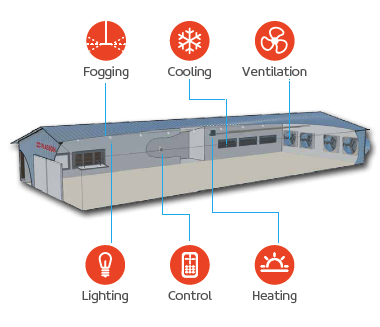 Ventilation
Plasson's wide range and options of fans are suitable for a wide variety of climates and promise a tailored and optimized solution for every farm
Exhaust Fans
We offer a wide range of energy efficient fans specially designed for the Livestock industry. The fans are characterized by their compact design and available with all types of motors (Single / Three Phase, 50Hz or 60Hz, Various Voltage motors).
Proven performance in the field guarantees ventilation system reliability
Unique blades made of high quality and durable compound of plastic and fiberglass
Casing available in stainless steel, galvanized and fiberglass
Assurance of optimum performance and low power consumption
Automatic tension on belt fans
Aerodynamic design for low air resistance
Fans are offered in a variety of configurations
Panel Fans – for installing on the inner wall
Box Fans- for installing through the wall
Fans are offered with or without cones
Optional slanted fans available too
Circulation Fans
With safety guards
Various suspension solutions
Inlets
Wall Inlets
Ceiling Inlets
Provides better air quality in the shed without impacting the thermal sensation of the birds with lower energy consumption
Smooth surface reduces efficiency losses in air intake
Available in 3 dimensions: 80cm, 100cm and 120cm
Motor-reducer drive system ensures greater efficiency of the opening system
Produced from high quality ultraviolet resistant PVC
Optional Exterior finish with sun-break and/or light filter
External Anti-bird grill according to the legislation

Cooling
Cooling

Pad
Provide maximum comfort for your birds by using the Plasson evaporative cooling system
Adjustable flow control to maximize cooling and minimize water spillage
Frames constructed from stainless steel or aluminum or PVC
Plasson robust design ensures high durability and minimum maintenance
Cellulose Cooling Pad
Tunnel Door
Single or double window models
Sections length design between house columns
Made of galvanized sheets
Window closing with rubber seals
Operated with Rack & Pinion or with Drive with single winch, polyester strap, cables and pulleys, 600

Fogging
Low or High Pressure Fogger System
Tunnel Door
Low pressure – 70PSI
High-strength plastic spray nozzles
Anti-droplet mechanism
Average drop size at 70PSI – 65 microns
Filter system to avoid clogging
Available in two models: 5,0l / h and 7,5l / h
Maximum permissible pressure: 80PSI
PVC pipes
Medium Pressure – 200PSI
Stainless steel spray nozzles
Anti-droplet mechanism
Small drop size
System of fixation of the nozzles via fast connection and with screw
Tubing with hose in high density polyethylene
High resistance plastic connections
Network installation in the "serpentine" or transversal model
High Pressure – 500PSI
Tiny droplet ensures greater cooling efficiency
Stainless steel nozzle with anti-driplet valve
System with hose in high density polypropylene
Independent drive of 2 fogger lines via manifold block
Brass connections
Piston motor pump
Heating
Plasson offers a wide range of heating systems to suit all requirements and climates:
Box Space Heaters, Cannon Space Heaters, Radiant Tubes and Brooders
Space Heaters
High Thermal efficiency
Operates on Natural or Low Pressure Gas
Hot surface electronic ignition.
Flame controlled by ionization
High pressure radial fan for efficient diffusion
IP44 protection
Two side doors for aasy access to internal parts for maintenance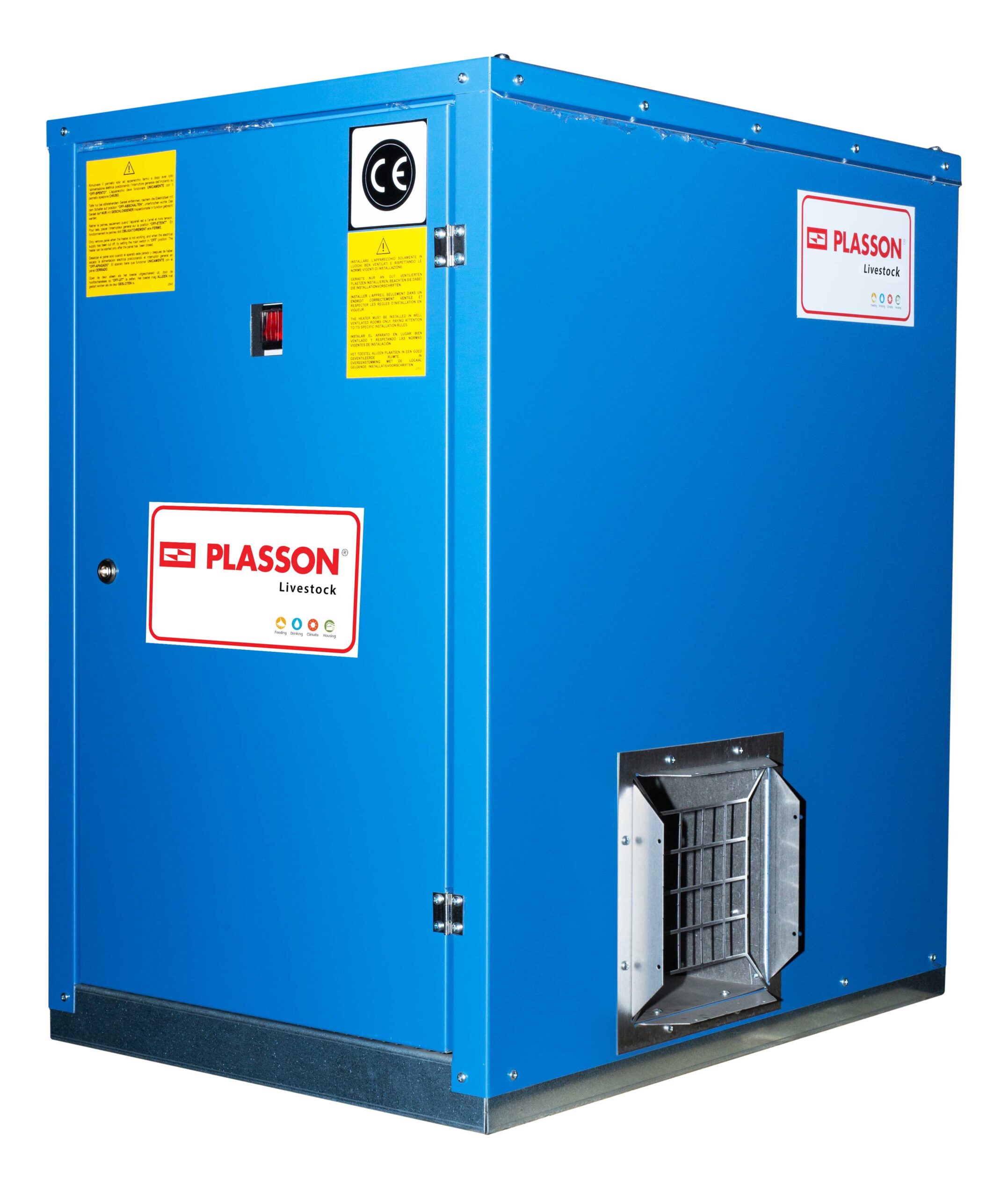 Radiant Tubes
Two stage heater – dual output for improved rate differential, 40,000 to 220,000 btu/h
Operates on Natural or Low Pressure Gas
Configurations of "U" and "L", horizontal or 45°
Separated controls compartment – electronics out of air stream, burner can run during servicing
Self diagnostic ignition module
Parabolic aluminum reflectors – most efficient in industry
Direct spark ignition
Vented or unvented
Brooders
Patentended Windbuster ignition pilot
Unique 60° angled stainless steel emitter enables a larger surface and heating are.
Aluminium canopy
Can operate with Natural or Low Pressure Gas
Controlled by thermostat
5 kw/h capacity (1000 to 2000 baby chicks)
Control panel with thermostat or solenoid valve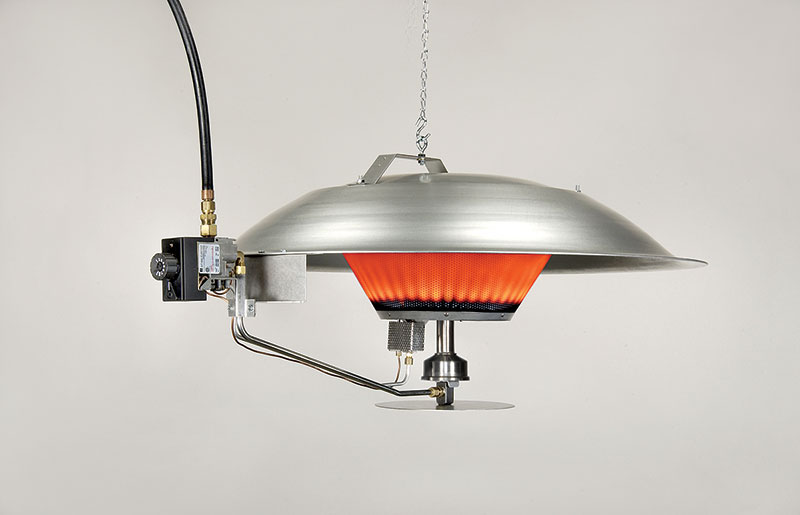 Lighting
IP65 LED high efficient lamps and housing on garlands
Available in 3m. or 4m. spacing along the line
Dimmer for Controlling Light Intensity
Capacity 14400W
Fully digital system
Two independently-controlled 1000W channels (110V-230V)
Automatic voltage detection and switching
Easy installation and operation
Operation modes: manual, automatic (lighting programme) and slave to house controller
Ensures smooth and stable light intensity even at the minimum values
Built-in protections: surge, short-circuit, overload, overheat, …
IGBT technology enables better efficiency and extends bulb life
Full control of light intensity in the house by 0-100% dimming option
Lighting Garlands
Injection molded robust waterproof, dust proof, explosion proof sockets and
connectors for ensuring long term reliability in toughest environments
Available in flexible sockets spacing configurations. Standard of 3m and 4m
Integral solution of suspension to sealing or cables for easy installation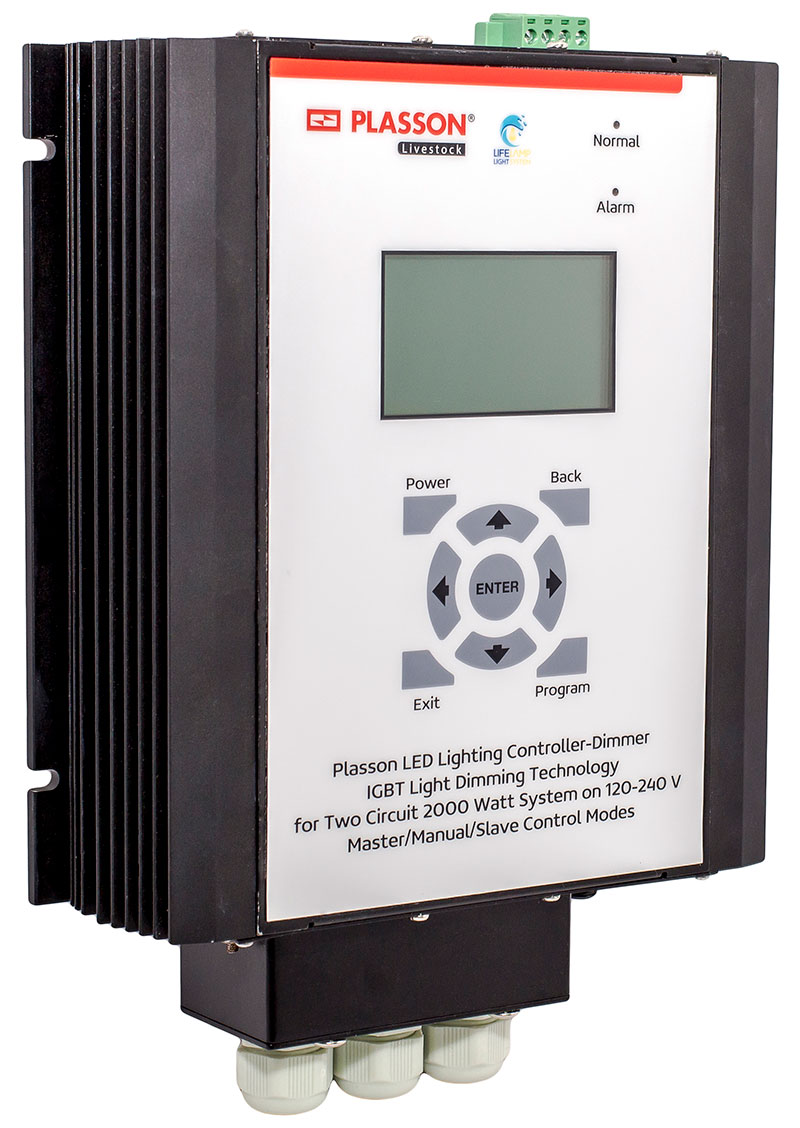 LED Bulbs
Bulbs and electric system made special for poultry
Lamps designed specifically for livestock barns
Break resistant polycarbonate bulbs
25,000 hour – guarantee of brightness during the lamp's lifetime
From 7W (600 LM) up to 14W (1520 LM)
Warm color – 2700 – 3000 K
Broad beam angle ensures better light distribution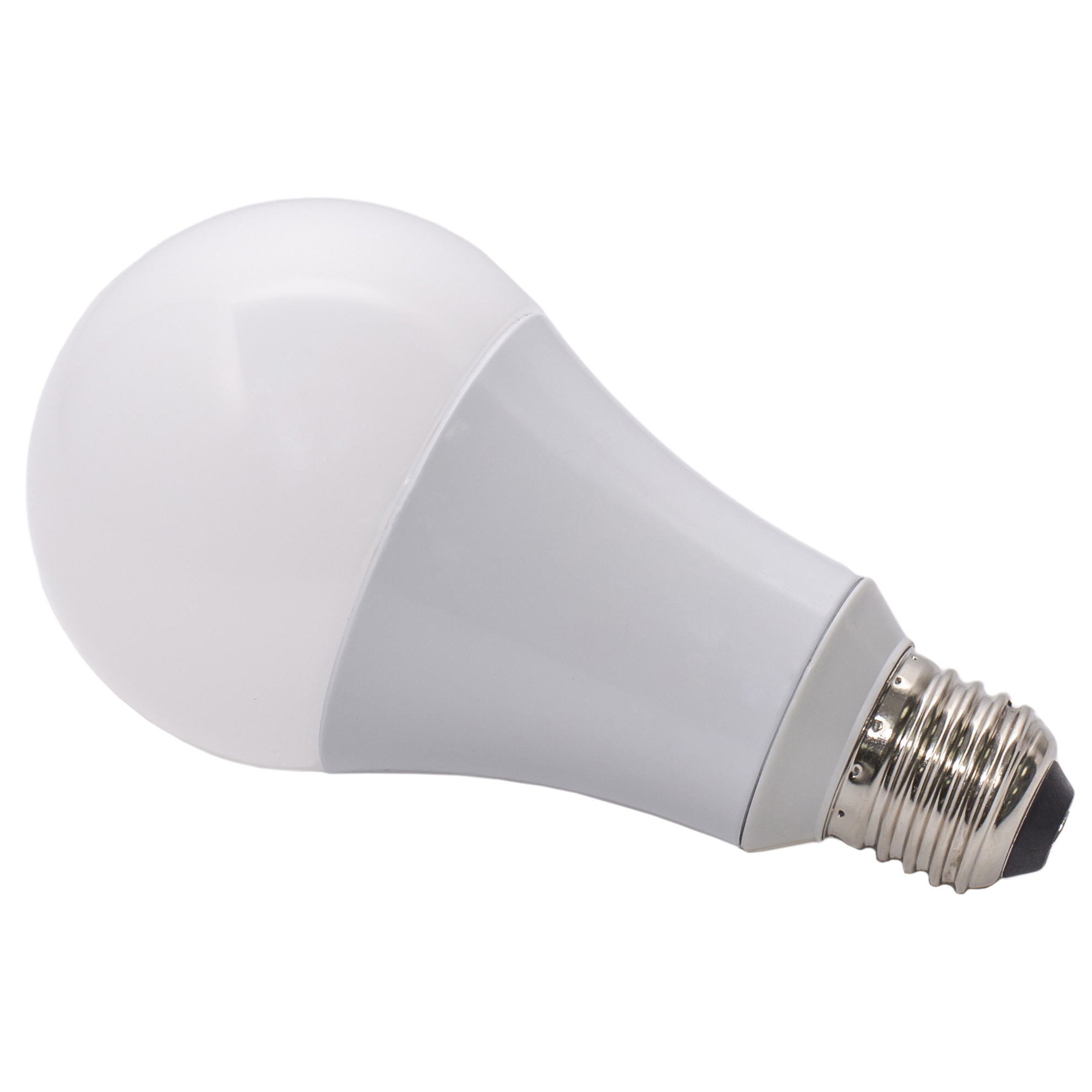 Control
Plasson controllers  are supplied by a world-leading supplier and manufactured according to Plasson's requirements.
Available in various configuartions from 8 to 50 relays.
Extension units and Remote communication units available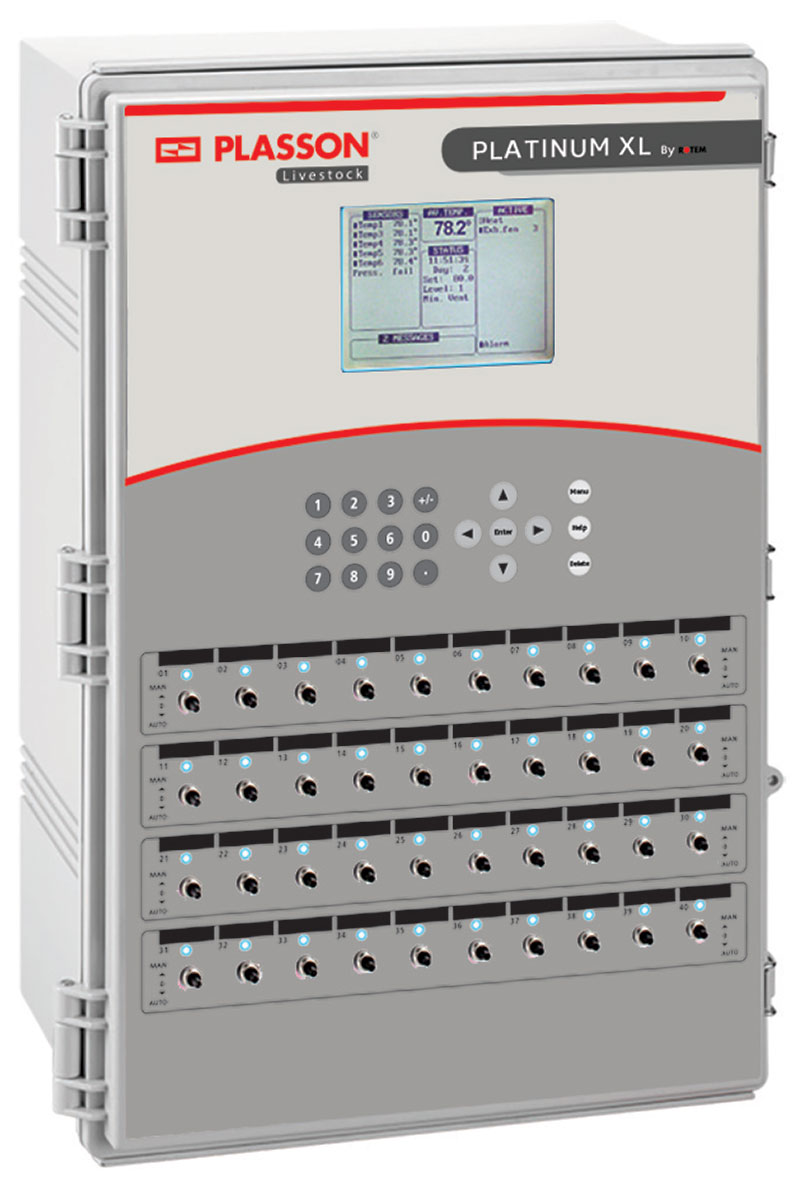 Controller
Plasson controllers ensure higher environmental controlling of your poultry house, providing better results to your business
Available in a range of models that can be mounted inside the electrical panel or outside the electrical panel
Easy access to the settings menu
Large LCD graphic display
Up to 40 additional heavy-duty relays
A 30 level ventilation program decreases the risk of a sudden change as well as the electric power consumption
Minimum ventilation according to the bird's weight
Air quality control through CO² and humidity sensor
Backup system integrated to the controller
Settings stored on a memory card
Temperature, humidity, alarm and blackout log
Curve or selected temperature settings
Supports up to 18 temperature sensors
20 group ventilation system
30 level ventilation control system
Supports 8 independent cooling systems
It comes with independent heating zones
Nipple drinkers automatic drainage control
Curtain opening control through percentage or static pressure
Possibility to add a password in order to change your settings
Scale control system for birds, silos, dimmer and electronic hydrometer
Detailed alarm and event log
Communication through USB cable in order to visualize, set up the controllers and also collect data from the controller
Scale controlling system, dimmer, water and feed counter, static pressure sensor and an exhaust fan speed variable already included
High accuracy weighting system for birds
Weighing
Weighing Silo
Silo Weighing System
Possible to control until 2 independent silos
Information about feed consumption (per day)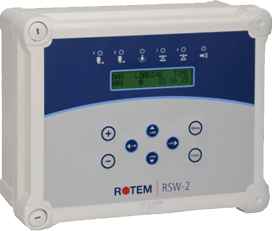 Feed Batch Scales
Bird Scales
Register number of birds weighed (per day)
Installation in chicken, turkey and breeder houses
Simple to operate and control
Daily weighing registry
Daily weight gain information
Automatic calculation of the average weight of birds
Communication with PC through cable
Platform scale / Suspended scale
100%made of stainless steel
Capacity of 30, 50 and 250kg
Data logging for 500 days
2independent scales per controller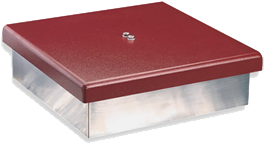 Safety System
Controller Voltage Stabilization
Surge and Noise Protector
Communication
Remote Communication System
All the information of your poultry houses available in one place – faster  response to your needs
Greater control with less labor
View of the flock's immediate situation, equipment setting and data collecting of all poultry houses from a distance
Remote communication through Internet
Controls up to 64 poultry houses per communicator
Compatible for AC-2000 and Platinum controller
Remote Communication and Alarms
Every house's information available in one place
More co